Mining
Geophysical methods are used in all stages of mineral exploration and mining.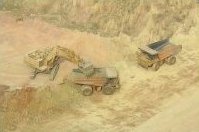 In Greenfield Stage surface geophysical methods like induced polarization, magnetics electromagnetics and gravity are adding value to existing geological and geochemical data for the definition of high priority drill targets.
On ongoing drilling projects the geophysical methods can be applied from surface, around and in between boreholes to provide information on off hole targets to adjust the drill programs. Even a barren borehole has therefore a high value as it can be used to look into the unknown.
Geophysical borehole logging is measuring the physical properties of the rocks. Since about 10 years optical and acoustic oriented scanners are delivering structural information even in vertical and RC boreholes to correlate with geochemical and geological data sets.
Borehole logging helps considerably in the understanding of the structural setting and physical fingerprint of a mineralization in order to search for similar targets around.